Allen Parish is proud to host a wide variety of local events throughout the year, including Mardi Gras, The Allen Parish Fair, the 60+ mile Re-Thunk Junk Flea Market Trail, and more.  With a number of fun event offerings, you are bound to find one that interests you! What are you waiting for? Come and enjoy the energy and excitement of Allen Parish and step into Cajun Country!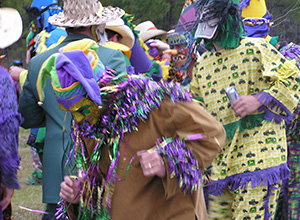 MARDI GRAS IN ALLEN PARISH
Colorful costumes, horses and good Cajun music are the ingredients for the Allen Parish Mardi Gras.  From traditional to contemporary, we have a parade for everyone.  Festivities begin the 1st weekend prior to Ash Wednesday and build to the grand finale on Fat Tuesday, Mardi Gras Day. After each crew has its trail ride, all gather to share in the community gumbo and dance. Come on Sha….its time you saw the real Mardi Gras.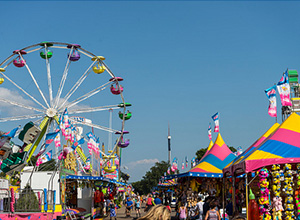 ALLEN PARISH FAIR
September in Allen Parish is fair time!  Music, rides, and food booths are highlighted with the stock show and rodeo.  Family entertainment for parents and children alike. This event is held at the Allen Parish Fair Grounds in Oberlin, LA. Please call 888-639-4868 or 337-639-4868 for more information.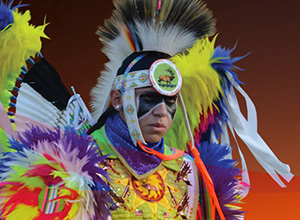 COUSHATTA POWWOW
Visitors are invited to witness Native American dancers, in full colorful regalia, from all over the U.S. including Canada, coming together for the Coushatta Powwow Celebration.  Come and enjoy all the Native American arts and crafts, food booths and much more.  The Powwow is held at the Coushatta Casino Resort. Visit www.coushattapowwow.com for Powwow dates and times.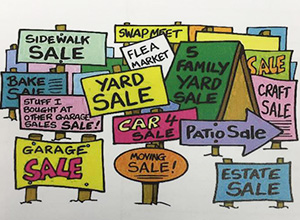 RE-THUNK JUNK
Bargain hunting at its best along the 60+ mile Re-Thunk Junk Flea Market Trail on Friday 19th and Saturday 20th of October starting at 7:00 a.m. RAIN OR SHINE… Whether you are a vendor or a junker-at-heart, there is plenty to keep you busy! Interested Vendors please call  the Allen Parish Tourist Commission at 888-639-4868 for more information on how to register.  Vendor forms are available below.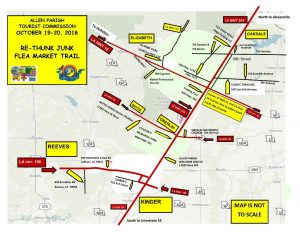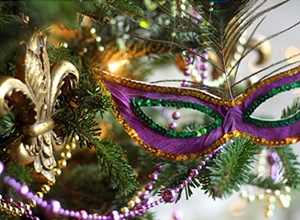 CHRISTMAS IN ALLEN PARISH
Les Grandes Lumieres is synonymous with Allen Parish.  Events begin the Saturday before Thanksgiving and goes through December.  Each town gears up for its own Christmas Celebration.  Call for dates and times for all events parish wide events.  888-639-4868 or 337-639-4868.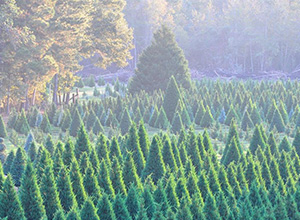 GRANT CHRISTMAS TREE FARM
For the past 20 years the Grant Christmas Tree Farm has been celebrating Christmas the last weekend in November and the first 2 weekends of December. Their Christmas Celebration comes with homemade, big, cat-head biscuits which are baked in an old fashion wood fired stove.  These biscuits are just like Grandma used to make, then topped with syrup fresh from the mule drawn cane press at the Grant Syrup Mill. This celebration includes a petting zoo, arts and crafts, wagon ride and much more.  Call 800-987-NOEL (6635) or visit www.grantchristmastreefarm.com.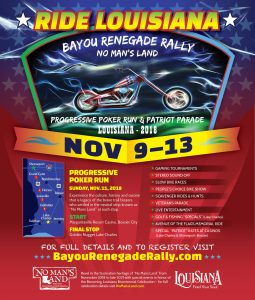 BAYOU RENEGADE RALLY, a Ride through No Man's Land!
Bayou Renegade Rally is a new special event being held over Veteran's Day weekend and also serves as the kick-off of the No Man's Land Bicentennial Celebration, which begins this fall and ends in 2021. With approximately 250-500 motorcycle enthusiast participants, the rally spans multiple dates and includes a progressive poker run from Shreveport to Lake Charles, Nov. 9-13. Riders will be in the Lake Charles area from Sunday, Nov. 11 – Tuesday, Nov. 13, and will be able to experience a multitude of patriotic events while soaking in the hospitality, culture, music, and cuisine of Southwest Louisiana.
Bayou Renegade Rally will also feature a patriot parade through the Avenue of Flags, live entertainment and special events at local casinos, several motorcycle contests, a jambalaya cookoff, and a photo scavenger hunt along the Creole Nature Trail.
At the time of the Louisiana Purchase, a large swatch of the western edge of what is now Louisiana was literally no man's land. While the Adams-Onis Treaty in 1819 set new boundaries, the era of "No Man's Land" would be ended only after the United States physically installed a military presence at "Cantonment Atkinson" in 1829.
For more information, visit www.BayouRenegadeRally.com or to learn more about No Man's Land at www.VisitNoMansLand.com.